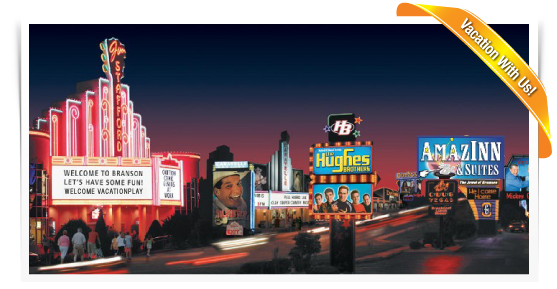 Branson
Traveling with Family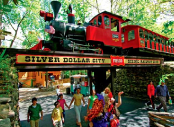 Everyone will enjoy a trip to Dick Clark's American Bandstand Theater. There you can of course take in a show, or stop by '57 Heaven to see some of the finest '57 automobiles ever kept. Or you can swing by Celebration City and hit some roller coasters. Then there's always Silver Dollar City where you can take in the simplicity of life in the 1880's then catch a ride on the giant swing!
Romantic Getaway?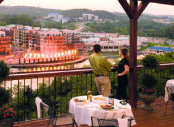 If you're the outdoorsy type you can take meandering strolls through the Lakeside Forest Wilderness Area. It features trails, a waterfall and a cave right in the heart of Branson. Spend a day at one of Branson's many spa's. Or have a romantic dinner the Candlestick Inn, which has been a Branson tradition since 1962.
Traveling with Friends?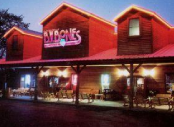 Stop by B.T. Bones for a great steak and some live music and dancing, or just go to the Outback Pub for some entertainment with an Australian flair! If you want some time on the green stop by Top of the Rock Golf Course, a course designed by Jack Nicklaus!
Dining
Shorty Smalls
7 N Boardwalk | 417-544-1133
The great American restaurant, burgers, MachoNachos, steaks, seafood, and pasta. Shorty Smalls specializes in delicious and reasonably-priced cuisine. The cuisine entrees are served in a relaxed and welcoming setting that you and your friends and family are sure to enjoy. Whether you are in the mood to indulge in something new, or just want to enjoy some old favorites, they promise the inventive menu and attentive service will leave you truly satisfied. No matter what your occasion calls for, or what your appetite demands, the friendly staff at Shorty Smalls promise to make your next dining experience a pleasant one.
The Pasta House
2690 Green Mountain Drive | 417-337-9882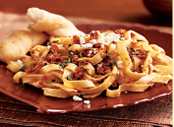 Time for Italian? Then its time for Pasta House! The Pasta House serves chicken, steak, and seafood entrees. Monday night: All you can eat pasta, Sundays Kids Eat FREE. All Pasta House Co. restaurants reflect an intimate charm with courteous, personalized service. In addition, our restaurants offer the ambiance of an Italian import grocery store with framed Italian prints. At several locations, bright exhibition kitchens provide the opportunity for diners to observe the chefs at work. In an effort to provide dining patrons with new tastes in Italian cuisine, The Pasta House Co. works on an ongoing basis to improve existing dishes and to develop new menus that appeal to today's increasing number of consumers who insist on consistently high-quality, good tasting Italian fare with authentic "old country" flavor.
Landry's Seafood House
2900 W. Missouri Hwy. 76 | 417-339-1010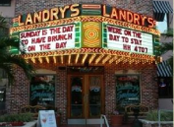 Exceptional seafood. Inviting atmosphere. Superb service. It's a winning combination for Landry's Seafood, which offers guests a true taste of Gulf Coast tradition. The menu features an array of sensational fresh fish and seafood selections – from mouthwatering entrées and appetizers to assorted salads and seafood platters.For landlubbers, Landry's offers tempting steaks and chicken delicacies. Attentive to seasonal and regional changes, our chefs are constantly introducing new and innovative items to the menu. The wait staff is warm, welcoming and eager to serve you! So drop your anchor at Landry's Seafood soon. We promise you'll have a fun-filled and delicious dining experience!
Attractions
Silver Dollar City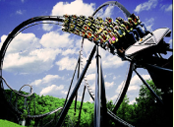 Discover the adventures of a Branson vacation or getaway when you visit Silver Dollar City attractions nestled in Branson, Missouri. Visit Silver Dollar City theme park where you will step back in time to an 1880's craft village filled with the best crafts, thrill rides, family attractions and festivals in Branson, Missouri. Silver Dollar City theme park hosts bluegrass festivals, craft festivals, southern gospel music festivals and a Christmas festival against the backdrop of the Ozark Mountains in scenic Branson, Mo. During summer, cool off at White Water, the premiere water park in Branson.
57 Heaven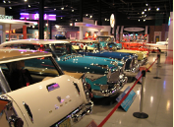 At '57 Heaven you will find the most beautiful vehicle showplace for 1957 ever assembled. See all the familiar '57s like the Chevy Bel-Air convertible, Corvette and two-seater Thunderbird. Also, the collection holds gorgeous examples of Imperials, Fords, Lincolns, Cadillacs, Buicks, Olds, Pontiacs and Packards of 1957. Every Mopar for '57 is represented including hardtop and convertible models in superb original paint schemes. Don't forget Hudsons, Mercury's famous Land Cruisers, the tiny Nash Metropolitan and unique Studebaker Golden Hawk. Extreme rarities in the collection include not one, but two '57 El Morocos, the Detroit production car that is half Cadillac and half Chevy and even Chrysler's Ghia! !
Wild Eye Ranch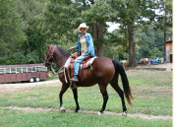 Located in the beautiful Ozark Mountains with peaceful rolling pastures and over a mile of the James River along one border that meets Table Rock Lake right at the headwaters. The Ranch offers horseback riding on beautiful trails, perfect for a few or a group. We also offer a horse motel for those of you traveling with your horses and premium boarding: pasture or stall, with fresh water, and daily grain. But that's not all - there is over 180 acres available for you to ride your horse, or one of ours. A regulation sized arena with lights and bleachers, a round pen, and many care options are available for your horse. Not to mention the most experienced horseman in the region as the general manager.
Host Resort
Festiva's The Cabins at Green Mountain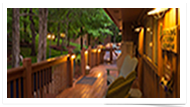 The breathtaking Ozarks provide the backdrop for The Cabins at Green Mountain and the resort's luxurious two and three-bedroom vacation villas are situated in the heart of Branson, Missouri. The property is canopied by age-old cedars, maples and grandfather oaks, allowing a reconnection with nature. Each cabin features a fireplace, full kitchen, and washer and dryer, making this your home away from home.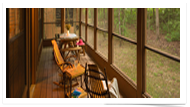 Spend your days relaxing by the pool, boating on one of the nearby lakes or teeing off at one of nine area golf courses. Step back into the 19th century at Silver Dollar City and hit the outlet stores on the way back to the resort. When the sun goes down, take in a show at one of more than 45 theaters throughout the town. Whether your musical tastes lean toward jazz, gospel, Broadway, country or somewhere in between, you're sure to find a show you'll love in Branson.
Directions
Driving Directions for Branson, MO MINI-VACATIONS:
Guest arriving after 5:00 pm MUST call the Branson Reception Center to arrange late check-in.
417-544-0790 ext. 309
Festiva Hospitality Group Preview Center 3940 Green  Mountain  Dr.  Branson, Mo 65616 (417) 544-0790 ext. 309
www.ReceptionCenter.us  (not .com)
From Springfield Airport to Preview  Center
Drive south on Airport Blvd. from the airport to Highway 266. Turn Left and go about one mile and take I-44 East.
Travel onI-44 East 8.8 miles to exit 82A/US65 South to Branson. Take the E 76 Country Blvd and turn left onto Red Route M0-376 Turn left onto  Green Mountain Dr.
Festiva Adventure  Club will be .4 miles on your  left.
Directions from Branson Airport to Preview  Center
Turn left onto Branson Airport Loop Turn right onto Branson Airport Blvd
Branson Airport Blvd becomes Branson Creek Blvd. 5.3 mi Branson Creek Blvd becomes Maple St
Turn right onto  US-65  N.  3.9 mi
Take the M0-76/76 Country Blvd/ Main St exit toward US-65-BR .03mi. Turn  left onto  M0-76/W  Main St/W  76 Country  Blvd. .05mi
Turn right onto Roark Valley Rd/Blue Route. Continue to follow Roark Valley Rd. 2. mi Turn left onto  Shepherd of the Hills Expy/ Red Route.
Continue to follow  Red Route 1.6mi
Turn left onto Green Mountain Dr/Yellow Route .08 mi
Directions from Harrison Arkansas to Preview Center
Take the 3rd left onto Main St S/US-65-BR/US-65-B. Continue to follow Main St S/US-65-BR.
Main St S/US-65-BR becomes US-65 N (Crossing into Missouri) Take the M0-76/76 Country Blvd/Main St exit toward US-65-BR. Turn left onto  M0-76/W  Main St/W  76 Country Blvd
Turn right onto Roark Valley Rd/Blue Route. Continue to follow Roark Valley Rd.
Turn lelt onto Shepherd of the Hills Expy/Red Route. Continue to follow Red Route.
Turn left onto Green Mountain Dr/Yellow  Route 8.



Festiva Hospitality Group Preview Center
3940 Green Mountain Dr.
Branson, Mo 65616
Phone: (417) 544-0790 ext. 309