Let's Get Started
It's and time to start planning your next trip! Vacations are not only important, they are essential, so let our team of "Extra Effort Experts" help you connect with the best vacation itinerary possible. Each vacation locale offers a little something different for everyone. From mountain tops to bikini tops, from roller coasters to rolling coastline, Vacation Play is here to see that your vacation time is valued time.
We are pleased that you made the decision to consider VacationPlay.com for your next vacation! We are the leader in vacationing on Hilton Head Island, South Carolina. In fact, we've traveled nearly 400,000 families on our wonderful promotional vacation packages! Your 100% satisfaction is our goal. If at anytime you have questions, please feel free to contact one of our
customer service
representatives.
Top 3 Questions
Booking My Travel Dates
Our staff would be happy to set your travel dates. Please call our Customer Service Office at 800-363-5798. Simply reference your name, telephone number, and preferred dates. We will take care of this rest! Be sure to let our staff know of any special requests to help make your vacation more enjoyable.
Directions to Check-In
Click here to find a map
and directions for checking into the respective host resort location. Please remember to notify the Check–In Center if you anticipate arriving after hours so that we may provide you with special instructions.
Arriving Late
Arriving late is not a problem as long as you contact the Welcome Center in advance. If you will be arriving after closing time (6pm), just call the Welcome Center on the day of your arrival at the number provided on your itinerary to arrange pickup of your hotel vouchers and any necessary instructions. To avoid the rush, feel free to call ahead within 72 hours to inquiry about Express Check-in.
"great rate. nice hotel."



"We booked our vacation and we were very pleasantly surprised at our experience. Got a great rate, stayed in a nice hotel, and were given so many things to do at a fraction of the cost. We're considering timeshare on our next trip."
Rob and Diane, Smithfield, IL
"so many fun things!"



"This was an unexpected last-minute getaway that turned out to be a great trip! We stayed at the Park Lane Hotel, and got to do so many fun things with the kids including a dolphin cruise and singing along with Shannon Tanner at Shelter Cove. "
Williams Family, Atlanta, GA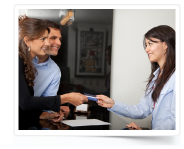 Tips for a Smooth Check-In
When booking a promotional vacation getaway, expectations are the number one reason for customer service concerns. Together, both guest and company, have a responsibility to one another to deliver what is promised and to uphold any obligations of the promotional vacation. Before you arrive, our team will quality-review your reservation and answer any last-minute questions you may have about your vacation with us.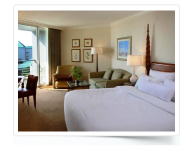 Your Accommodations
Guests traveling on a promotional timeshare package often ask what hotel they will be staying in. Typically, hotel accommodations are assigned on a first-come, first-serve basis directly at the Welcome Center upon check-in to that resort destination. In some cases, guests
may
reserve a specific hotel location through their booking agent with a confirmed travel reservation. Our reservation team is to assure a comfortable stay.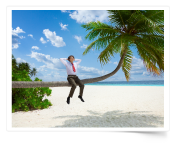 Vacation is Good for your health
Studies have shown that time spent relaxing during a vacation can provide a number of health benefits. Regular vacations can dramatically reduce the risk of heart disease, burnout, and help you regain your emotional balance. Getting away on vacation has been proven to promote a positive mood, as well as refresh and rejuvenate your mind and body. Recent studies also show an increase in performance on the job when you return to the office after vacation.