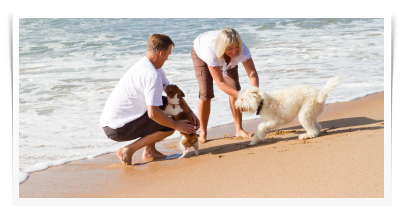 Beach Pets in Hilton Head
So, you want to take a vacation but you can't bear the thought of leaving your pet behind? The good news is - you don't have to! There are a number of Hilton Head Island vacation hot spots you can enjoy with your furry, feathered, or scaly friend right at your side! Hilton Head Island is a very pet friendly vacation destination and there are many options for pets including restaurants that even encourage you to bring your pooch along for dinner!

Of course there are rules in place to protect your pet as well as other folks on the Island, but if you plan ahead and follow a few simple guidelines, there's no reason you can't enjoy the open water, the nature trails, parks, and our beautiful beaches with your pet. When it comes to vacationing with your pet on Hilton Head Island, you will find a wide variety of places to visit, restaurants to enjoy and activities for everyone...including Fido or FiFi...because your pet deserves a vacation to beautiful Hilton Head Island, too!

For guests providing ADVANCE NOTICE (and based on availability), the following HHGS partner hotels will accept pets for guests on HHGS promotional vacation packages.

Park Lane Hotel & Suites.......... $30 per Pet per Night. Dogs over 75 pounds are subject to approval at time of booking.
Holiday Inn Express .......... $40 per Pet per Night. Pets cannot be left unattended and must be on leash at all times.
Beach House, a Holiday Inn Resort .......... Pets are not allowed.

Additional fees may apply should your pet cause damage to the hotel. Guests are required to sign a dog waiver at registration acknowledging that they are solely responsible for any damage caused to any hotel property, employee or guest. No more than two dogs are permitted in a room.