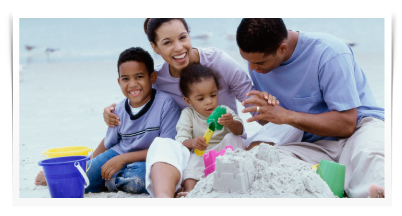 Important Note to Guests
We thank you for the trust and confidence you placed in us. While it is easy to fine families interested in vacation ownership, not all families have the means. By targeting our offers to qualified families, we are able to provide substantial discounts to tempt your interest.
If you are unable to meet the qualifications, or they changed from the time you bought your package, please contact our office immediately at 800-363-5798. Guests who travel anyway, and are not qualified, will be responsible for the full cost of their vacation package. We encourage you to contact
Customer Service
at anytime for assistance.
1. Your hotel accommodations are provided by VacationPlay.com and the host resort. For your comfort, we utilize standard hotel accommodations which include two (2) double beds that will accommodate up to four adults. Hotel Taxes, Resort Fees and a deposit for hotel incidental charges are your responsibility and due at time of hotel check in.
2. The hotels for this program are designed for a family of four or less. Additional rooms or accommodation upgrades are based on availability and require advanced reservations. Prices are based on season and would be quoted at time of request.
3. Advanced reservations are required. Reservation requests made less than two weeks prior to arrival date will require a reservation handling fee of $35, based on availability. You will receive a written reservation confirmation that you must present upon arrival to your destination. Multiple reservation changes will require a $25.00 service fee.
4. Cancellations or date changes made less than 72-hours prior to your confirmed arrival date will require a $50 cancellation fee. Cancellations or date changes on major holidays made less than 7-days prior to your confirmed arrival dates will require a $50 cancellation fee.
5. Unless otherwise stated, travel must be completed within twelve months from issue date.
6. For identification purposes, a valid driver's license and a major credit card in the traveler's name are required upon Check-in.

7. Hotel Check-in time is after 4 p.m. If you will be arriving after check-in hours you must call the welcome center to make arrangements. Your final confirmation documentation will provide you with the phone number and check-in hours.

8. Hotel Check-out time is 11:00 am. Guests are responsible for hotel taxes and incidentals.

9. Most hotels do not accept pets. If you intend to bring your pet, please contact us and we will attempt to make arrangements where possible. We make no guarantees that pet accommodations will be readily available. An additional charge and/or deposit will be required at time of check in.

10. Hotel parking areas do not permit trailers and/or recreational vehicles on their property due to parking space limitations.

11. Due to seasonal availability of specific premiums and lodging, we reserve the right to substitute premiums and lodging of equal or greater value.

12. Due to limited presentation times your appointment is prescheduled and cannot be changed. In the event you are unable attend the presentation for any reason, you will be responsible for a $200 reservation fee.

13. To be eligible for this vacation promotion you and your spouse are required to: -be a permanent resident of the United States or Canada -have a combined annual income of greater than $50,000 -attend a presentation of the host resort together. -provide proof of same primary residence of both partners (driver's license). -be at least 25 years of age.

14. Promotional packages cannot be used for group travel or in conjunction with any other promotion(s). Vacation Packages cannot be combined by family and friends to use as group travel. You may only tour the host resort once within a twelve month period. Failure to comply with these guidelines will result in a $200 service fee.

15. To qualify for this offer, you must not be currently seeking protection under federal bankruptcy laws, unless your case has been reported by the Federal Bankruptcy Court as terminated.

16. Vacation package transfers are allowed to an eligible party at a nominal fee and must be approved prior to transfer.

17. We do reserve the right to change or modify this offer if necessary. This offer is void where prohibited.

18. This prepaid promotion is non-refundable. Failure to meet these Guidelines and requirements will result in a $200 service fee, unless otherwise stated.

19. This advertising is being used for the purpose of soliciting the sale of a vacation ownership plan.