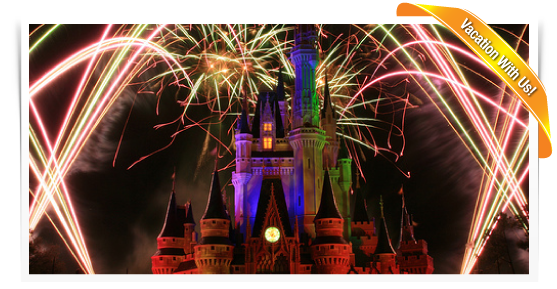 Orlando
Traveling with Family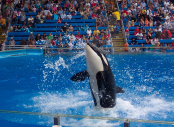 We know you absolutely won't want to miss that trip to Disney World! There is fun to be had for all ages here, from toddler to adult. Then there is always Universal Studios; where you can hang out with Shrek or the Simpsons! Take the kids to Sea World & Busch Gardens, or Discovery Cove. You won't be disappointed, and you definitely won't be bored.
Romantic Getaway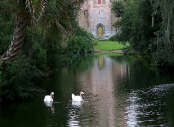 Schedule some spa time at Disney World, there's romance there and it's not just for Princes and Princesses. Take some time away to visit the Bok Tower Sanctuary, where you can see the Singing Tower, lush plant life a magnificent estate and a museum. Take a trip for two across Lake Eola, or climb aboard the Rivership Romance for a dinner cruise.
Traveling With Friends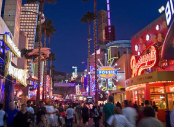 Orlando has plenty of golf greens just waiting for you! You will also be able to take in countless shows like the Blue Man Group, or choose from a variety of great restaurants. Orlando also offers a very hip nightlife. Check out the City Walk, styled after California's famous City Walk, or hit Downtown Disney Pleasure Island.
Dining
Jimmy Buffett's Margaritaville
1000 Universal Studios Plaza, CityWalk | 407-224-2155
This 15,000 sq ft hideaway features 3 theme bars, patio and balcony seating, a state-of-the-art sound system and a two story erupting volcano. They serve dishes of Cajun and Caribbean fare as well as, of course, the "Cheeseburger in Paradise"
Jack's Place Restaurant
9700 International Dr.| Rosen Plaza Hotel | 407-996-9700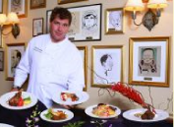 Jack's Place features prime steaks, fresh seafood and a wide selection of appetizers, entrees and desserts all surrounded by the world's largest collection of autographed caricatures of stars and dignitaries. 9700 International Drive
Adriatico Trattoria Italiana
2417 Edgewater Drive | 407-428-0044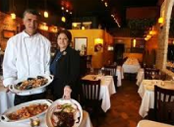 Creative Classic Italian and European Cuisine. Old world cuisine demands the best ingredients available ... the finest cuts of meat, the freshest seafood, and in-season vegetables are chosen for freshness and flavor. The fresh pasta is exquisite. Each entree is individually prepared with the magic touch of this refined chef.
Attractions
Walt Disney World Fun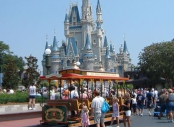 Having fun is what a stay at Calypso Cay Resort is all about, and our location puts you right in the middle of the fabulous theme parks and attractions that are fun for everyone. At Magic Kingdom®, watch dreams come alive within the seven themed lands of the Magic Kingdom® Park. Enjoy rides, parades, stage shows, fun dining and daily appearances by Disney characters for the experience of a lifetime. You may also consider the Downtown Disney® area. Head over to the Downtown Disney® Marketplace, Downtown Disney® Pleasure Island and Downtown Disney® West Side for 120 waterfront acres of dining, shopping and entertainment fun.
The Mall at Millenia – The Experience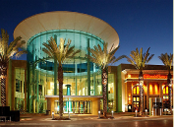 More than just the ultimate shopping destination, The Mall at Millenia treats guests to a sensory experience. Breathtaking architecture creates a distinct environment that exceeds all expectations. The latest runway fashions from NY, London, Paris and Milan are broadcast on LED screens atop 35-foot high masts. Amenities such as valet parking, multi-lingual guest services personnel, foreign currency exchange, and global shipping at a U.S. Post Office are offered to enhance the shopping experience.
Gatorland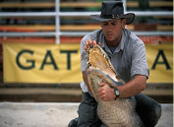 Known internationally as the Alligator Capital of the World...For over half a century, Gatorland has been creating fond vacation memories for millions of visitors who have entered through its gaping gator mouth entrance. Families, friends and employees alike have ventured through the glass double doors on their way to a journey through this natural, low-tech adventure. Located between Orlando and Kissimmee on the South Orange Blossom Trail, Gatorland is one of Central Florida's oldest attractions, and provides a unique and natural alternative to the larger theme parks of today.
Kennedy Space Center Vistor Complex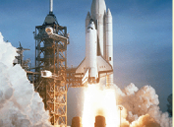 Orlando vacations aren't complete without a trip to Kennedy Space Center Visitor Complex. Just east of the most popular Orlando attractions and theme parks, NASA's launch headquarters is the only place on Earth where you can tour launch areas, meet a veteran astronaut, see giant rockets, train in spaceflight simulators, and even view a launch. Experience more on your Orlando, Florida vacation with a daytrip to Kennedy Space Center Visitor Complex, where the sky isn't the limit - it's just the beginning.
Host Resort
Vacation Villa's at Fantasyworld Two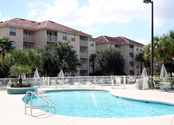 The vacation Villas at Fantasyworld complex, located in Kissimmee, is made up of two distinct properties, both elegant and unique. Vacation Villas at Fantasyworld is comprised of 202 Mediterranean style two-story villas (townhouses). Our newest development, Vacation Villas at Fantasyworld Two, has just completed construction of one-story condominium style units, bringing the total to 96 units.
TOWER I
Each unit is two bedroom / three bath fully furnished and equipped. Each unit was designed as a "lock-off" unit that may be split into a one bedroom that sleeps four and a hotel room that sleeps two.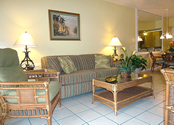 TOWER II and TOWER III
Each of our new tower II units are also two bedroom / three bath "lock-out" units. They have an added feature of a wet bar including a microwave, small refrigerators, and a coffee maker in the second bedroom. This allows for two weeks of exchange through Interval International. One week as a one bedroom that sleeps four with the pull out sofa bed, and another studio unit that comfortably sleeps two.
An assortment of water sport activities such as jet skiing, water skiing, canoeing, and pontoon boating can provide fun and excitement for family members of all ages. Smaller lakes are scattered through our resort as well as conveniently located swimming pools, most of which feature crystal clean hot tubs. This is just one of the reasons families return to our resort for their vacation year after year.
Directions
Orlando (Kissimmee) Welcome Center 7503 Atlantis Way Kissimmee, Florida 34747 Located at: Festiva's Orlando Resort
Check-In Hours 1:00PM - 9:00PM, 7 Days a Week.
When you arrive in Orlando, check into the Welcome Center to receive your documents and tour appointment. If you will be arriving outside of regular hours, please call 1-800-780-4200 to arrange a late arrival or your room will be released.
From Orlando Airport or Port Canaveral :
Take SR528 West to the Orlando Area Attractions . Merge onto 1-4 West and proceed to Exit 64.
Follow FL-530 W/US-192 W and N Old Lake Wilson  Rd to Discovery Pl in Four   Corners
From Sanford Airport:
Take  FL-417 Toll S from  E Airport Blvd. Continue On FL-417 Toll S
Tak e FL-528 W/FL-528 W/FL-528 Toll W to FL-530 W/US-192 W in Osceola County. Take exit 64 from 1-4 West
Follow FL-530 W/US-192 W and Old Lake Wilson Rd to Discovery Pl in Four   Corners
From Tampa :
Take 1-4 East to Sinclair Rd in Four Corners. Take exit 1A  from FL-429N
Follow Sinclair Rd and N Old Lake Wilson Rd to 7503 Atlantis   Way
From Jacksonville / Daytona:
1-95 South to 1-4 West. Proceed on 1-4 West to Exit 68. Turn left onto SR535 and proceed about 4 miles.
Turn right onto Kyng's Heath Rd.
The Reception Center will be the first building on your right, about two blocks.
From Ocala/Tallahassee/ Atlanta:
1-75 South to Florida Turnpike to 1-4 west. Proceed on 1-4 West to Exit 64.
Follow FL-530 W/US-192 and N Old Lake Wilson Rd
From Miami/Key West :
Get on 1-95 North
Take Florida's Turnpike to Celebration Ave Take exit 2 from FL-417 Toll South
Follow FL-530 W/US-192 and N Old Lake Wilson Rd to 7503 Atlantis Way
Late Arrivals: Envelop with guest's info and voucher will be waiting at the front desk.
Host Resort: Touring Location: Vacation Villas at Fantasyworld 2 4999 Kyngs Heath Road Kissimmee, FL 34746 407-397-1604


Festiva's Orlando Resort
7503 Atlantis Way
Kissimmee, Florida 34747
Phone: (407) 396-4005