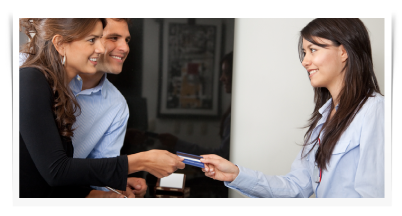 Tips for a Smooth Check-In
"Expectations" are the number one reason for customer service concerns at check-in for your vacation getaway. From a guest's perspective, it is expected that the company will have every detail in place upon arrival. From the company's perspective, it is expected that the guest agrees to the terms of the promotion and willingly attends the presentation while on vacation. Together, both the guest and company have a responsibility to one another to deliver what is promised and to uphold any obligations of the promotional vacation. Vacation Play is committed to making sure your expectations are met 100%. We have assembled some helpful tips to keep check-in running smoothly.

Review the terms of your package prior to arrival. Many promotional vacations packages include a preview of the host resort property. Failure to attend or to meet the qualifications could result in having to pay full price for your stay. Before you hit the road, make sure you have good directions. You can find a link to printed directions to check-in here.




While your accommodations are typically ready by 4pm, check-in at the Welcome Center begins as early as 10:00am each day and closes at 6pm. We cannot guarantee that your hotel room will be cleaned and ready to check-in prior to 4pm.




Arriving late is not a problem as long as you contact the Welcome Center in advance. If you will be arriving after closing time (6pm), just call the Welcome Center on the day of your arrival at the number provided on your itinerary to arrange pickup of your hotel vouchers and any necessary instructions.




Photo identification and a major credit card are required in order to check-in. We use this to verify your reservation and is kept confidential. Guests should also bring a copy of your vacation confirmation paperwork when you check-in.




Be familiar with your accommodations. Although promotional vacations are sponsored by a resort, guests will actually stay in a nearby hotel - NOT the resort. Please note that resort lodging is not available.




At check-in, you will receive a voucher to take to the hotel, any promotional gifts included with your package, and a voucher to take on resort preview. The Welcome Center will schedule a personalized presentation and tour of the host resort for you and your spouse and are generally scheduled for the day after you arrive.