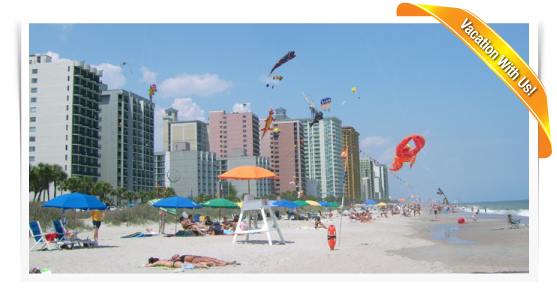 Myrtle Beach
Traveling with Family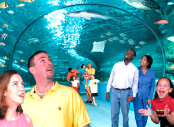 Visit the Carolina Opry, Myrtle Beach's first variety show still going strong after 21 years! Then of course, there's Broadway at the Beach. This single attraction houses Hard Rock Café, The Dragons Lair, Ripley's Aquarium, The Palace Theater and the NASCAR Speedpark!
Romantic Getaway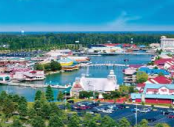 Take a trip to the Brookgreen Gardens, or the Barefoot Landing. You can also go over to Huntington Beach State Park to see a fresh water lagoon, salt marsh, and a boardwalk for viewing wildlife. For a romantic night out take your loved one to the Library for an amazing fine dining experience.
Traveling with Friends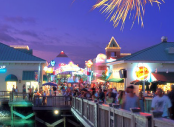 Take a ride with the Carolina Safari Jeep Tours, visit the Pavilion, and the Myrtle Waves Waterpark. Myrtle Beach also boasts a variety of golf courses to choose from. Play a round of miniature golf, or play like the pro's at Kings North an Arnold Palmer designed course!
Dining
Flo's Place
3797 Hwy 17 Business, Murrells Inlet | (843) 651-7222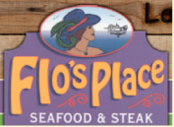 Flo moved to Myrtle Beach from her native New Orleans in 1972, and she's been serving up fabulous Cajun treats here ever since. The fun and funky ambience is notable for the hats that adorn every inch of available ceiling and wall space, most of them donated by faithful fans. The menu is authentic Cajun, including blackened fish, gumbo, red beans and rice, po' boys, gator stew (yes, it's real alligator), and many other craving-good bayou concoctions that you'll wish you could get in your own hometown. There's also a raw bar if you're inclined to slurping down some oysters, and kids have their own special menu, assuring Flo's a solid future with lots of repeat business.
Sea Captain's House
3002 N Ocean Blvd | (843) 448-8082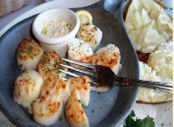 Over the years many have crossed the portals of the Sea Captain's House, enjoyed the superb dining, ocean view and warm southern hospitality that the Sea Captain's House offers. To this day, it is still known as the place for seafood where friends meet year after year. The Sea Captain's House Restaurant has won more awards than any other restaurant in Myrtle Beach. Southern Living Magazine named it Best Seafood Restaurant four years in a row. Open daily for breakfast, lunch and dinner, it offers a wonderful variety of unique seafood dishes as well as poultry, steak, pork and daily lunch specials. Once you get seated, you will enjoy a delicious meal and a beautiful ocean vista.
SeaBlue Tapas Restaurant & Bar
503 Hwy 17 N North Myrtle Beach | (843) 249-8800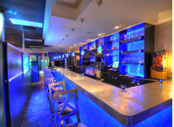 A bit of a departure from the more family-oriented places that pepper the Strand, SeaBlue is a sophisticated space that caters to diners with discriminating tastes. The dreamy, marine-blue bar area is the perfect place to enjoy a martini, and the intimate, cafe-style tables are smartly appointed with white linens and candles. The tapas-heavy menu allows guests to enjoy several different dishes over the course of their visit, including pan-seared lump crab cakes, Caribbean jerk-rubbed grouper, and petit filet with crumbled gorgonzola and balsamic syrup. Each dish is delivered to the table when it's prepared, ensuring that your group will have a new topic of conversation every few minutes. Enjoy scenic water views and family dining. The Crazy Crab serves fresh traditional Southern-style steamed, broiled, or fried seafood at its best. Also serving great steaks, salads, and tons of choices from the kids menu.
Attractions
Family Kingdom
300 South Ocean Blvd. | (843) 626-3447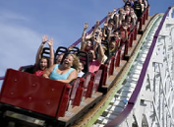 For the young and young at heart, Family Kingdom offers some of the most memorable and adrenalin-pumping experiences on the Grand Strand. Families and Groups naturally love it for our excellent variety of spirited and wholesome fun. Locals and vacationers alike know us as the hottest spot in town for having the time of their lives.
NASCAR SpeedPark
1820 21st Ave N Ext | (843) 918-8725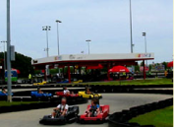 With swerves, curves and pulse pounding excitement, NASCAR SpeedPark offers an exhilarating experience for all ages! We have seven tracks racing to bring families together, a SpeedDome arcade with over 50 games including side-by-side linked racing machines, and kiddie rides for the little ones where parents can ride along too!
Wild Water and Wheels
910 Highway 17 South Surfside Beach | (843) 238-3787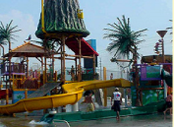 A 16-acre park filled with exciting rides and slides. It is the place to be all summer long and the complete fun center for the entire family. Wild Water and Wheels has something for every thrill seeker regardless of age, shape, or fitness level. The Wild Water and Wheels water park features eight thrill wet rides, a Wipe Out Wave pool, and a kiddie pool.
Host Resort
Touring the Resort Property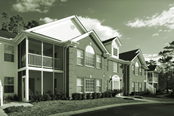 Festiva's Ellington at Wachesaw Plantation East is located in the very heart of the low country. You will be surrounded by history, pristine beaches, as well as a number of magnificent golf courses. The resort is a beautiful oasis offering guests a retreat from the high-rise buildings of the Grand Strand, yet close enough that all corners of Myrtle Beach are yours to explore.
Vacation Play Guests to Myrtle Beach will experience resort style living at one of our many host resort properties. Myrtle Beach, SC has been selected the "Best Family Beach!" by the Travel Channel. Amusement parks, water parks, restaurants, live entertainment, museums, nature preserves and outlet shopping combine with over 100 golf courses to provide options sure to please every family member.
Visitors enjoy the wide sandy beaches, the warm Atlantic Ocean, on-site amenities at area resort hotels and a myriad of available activities including: dining at over 1700 restaurants, enjoying numerous live shows, golfing at 120+ courses, entertaining the kids at several Grand Strand amusement or water parks and shopping at area malls, outlet parks and specialty shoppes. With over 120 golf courses the Grand Strand has more public golf courses per person than anywhere in the United States. Also, the area has some of the best courses in the country, designed by some of the biggest names in golf.
Our Reservation Team will be happy to discuss your trip and specific host resort's preview tour prior to your arrival during our confirmation process.
Directions
Driving Directions for MYRTLE BEACH, SC
Guests staying  at an Etour property  and Guests that are not staying at an Etour property:
Overnight guests arriving after 5:00pm must call Welcome Center to arrange late arrival.
FOR BEST DIRECTIONS TYPE INTO GPS / MAP APP: 33.553092, -79.046731 (843) 357-5233
GPS I Smart Phones do not accurately display real address: 4450 Hwy 17 South; Murrells Inlet, SC 29576 Instead put in Post Office address 654 Bellamy Ave Murrells Inlet,SC 29576 then go to Woodside Village Shopping Center across the street.
Look for Chic-Fil-A Sign & Bi-Lo. Festiva right of Radio Shack.
DIRECTIONS FROM 1-95 NORTH:
Take 1-95 to SC Exit #181, Route 38 (Latta/Marion) . Follow Route 38 for approximately 7 miles to Route 501. Take Route 501 towards Myrtle Beach (approximately 45 miles), once you see (on the right} the Hard Rock Theme Park and you go over the large waterway bridge, begin looking for your next Exit, Hwy. 17 ByPass South to Georgetown. Once you enter this exit you will notice on your left, Restaurants, Best Buy, and the New Coastal Grand Mall. You will continue South passing on your left the airport, further down on your right, Lowe's (you have just entered Surfside Beach}, straight ahead approx 7 miles. Look for Waccamaw Hospital on the right go 1block, look for Chick-Fil-A on the right, shopping center entrance on the  right.
DIRECTIONS  FROM CHARLESTON:
Take Hwy. 17 North thru Georgetown and continue right onto Hwy. 17 at the McDonalds/Burger King intersection. Continue on Hwy. 17 through Pawley's Island and Litchfield. Once you enter Murrells Inlet you will stay on Hwy. 17 Bypass . Look for Chick-Fil-A on the left, Woodside shopping center entrance on left at stoplight.
DIRECTIONS FROM WILMINGTON:
Take Hwy. 17 South through Calabash, Little River, North Myrtle Beach (you will pass House of Blues and the Alabama Theater on the right}. Stay straight and bare to the right to continue on Hwy. 17 South Bypass
(Pirates Voyage will be on your left, and you have just entered Myrtle Beach. Cont inue on Hwy. 17 S Bypass approx imately 15 miles (Planet Hollywood, Broadway at the Beach are on your left, Coastal Grand Mall is on your left,stay straight look for Lowe's on your right (you just entered Surfside Beach}, straight ahead approx. 7 miles, start looking for Waccamaw Hospital on the right, go 1block, look for Chick-Fi l-A on the right, shopping center entrance on the  right.



4450 Hwy 17 South
Murrells Inlet, SC 29576
Phone: (843) 357-5233