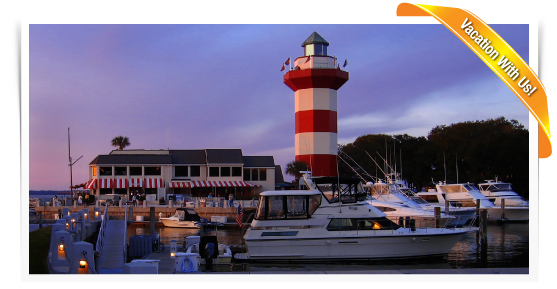 Hilton Head
Featured Hotel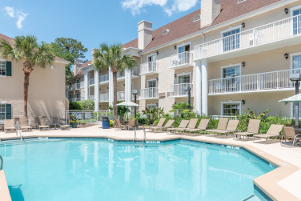 Palmera Inn & Suites at Park Lane
Fresh off a brand new multi-million dollar renovation in 2019, the all-Suite guest rooms are shining with style and comfort.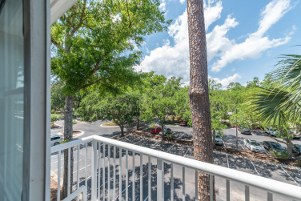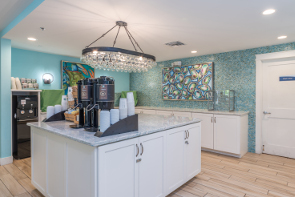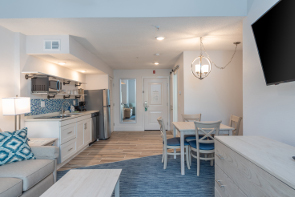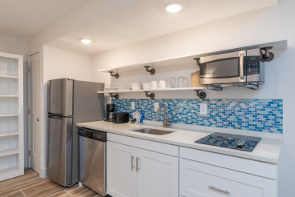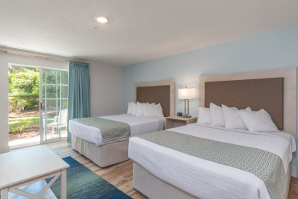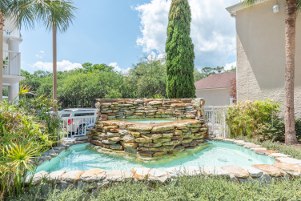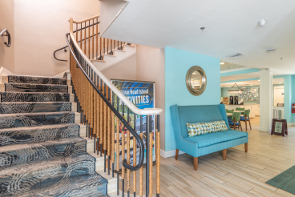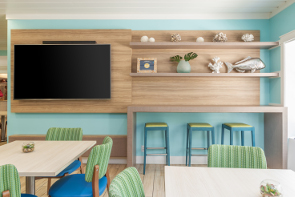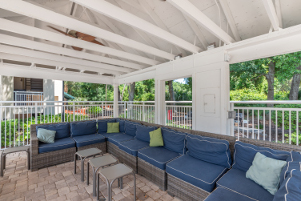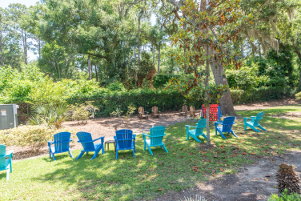 Traveling with Family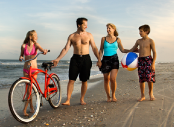 Take everyone to the Harbour Town Lighthouse in Sea Pines to have a bird's eye view of the coastal inlet. You can also watch the working activities of our famous harbour as luxury yachts frequently pass by. Sea Pines also offers shopping, popular restaurants, and horseback riding. Go over to Shelter Cove Harbour! There you can take part in kayaking, sailing, or cruise excursions. There are also concerts and fireworks! Move on to Adventure Cove, Island Playground, the Coastal Discovery Museum, and The Sandbox. At Island Playground the kids will have a blast with the inflatable slides, obstacle courses, and Imagination Stations. The Coastal Discovery Museum is perfect for that little, or not so little, historian. It offers indoor and outdoor exhibits, as well as the History Time-line Exhibit and several tours and cruises around the island.
Romantic Getaway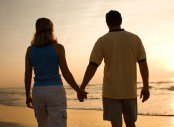 Hilton Head Island has that covered, too. Walk hand in hand on stunning beaches. Take a day trip on one of the many cruise excursions. Dine at magnificent restaurants on fresh seafood and world class cuisine. Take in the Hilton Head Symphony Orchestra, visit a local art gallery, or schedule in time to go to the theater or the ballet! A special treat for Jazz lovers is tucked away in the Village at Wexford. The Jazz Corner offers an intimate setting of touring jazz artists, delicious cuisine, and award-winning deserts best shared as a couple.
It's a GOLF Island!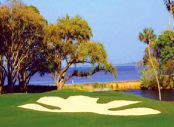 Plan a little time on the greens! Hilton Head, and nearby Bluffton, offer a variety of golf courses for every skill level. Want to further improve your putt? Schedule a lesson! Want to watch the pros? Hilton Head hosts the Verizon Heritage PGA Tour every year!
Arts and Culture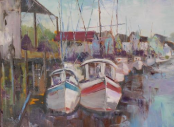 Throughout the year, Hilton Head hosts several festivals and outdoor gatherings. The Historic Bluffton Arts and Seafood Festival, The Hilton Head Island Food Fest, Seafood Jazz & Brew, the Native Islander Gullah Celebration, and the Winter Carnival are just to name a few!
Dining
Aunt Chiladas Mexican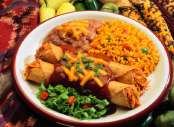 Aunt Chiladas genuinely serves something for everybody. In addition to a broad range of traditional "American" fare, they also serve excellent Mexican and Tex-Mex cuisine, great steaks, and Italian cuisine. Try the steaks, fajitas, chili, ribs, and Mexican pizza!
The Crazy Crab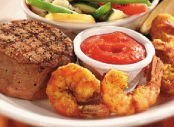 Enjoy scenic water views and family dining. The Crazy Crab serves fresh traditional Southern-style steamed, broiled, or fried seafood at its best. Also serving great steaks, salads, and tons of choices from the kids menu.
Hilton Head Diner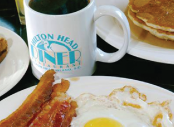 Serving fabulous breakfast, lunch, and dinner! Open 24 hours a day! Your choice of American dining set to jukebox music in a nice clean 50's style diner atmosphere. You'll also want to try one of their homemade desserts!
Kingfisher Seafood & Steak House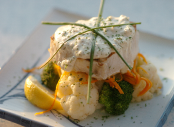 The Island's only restaurant with nightly live entertainment for your listening and dancing pleasure! The excellent water view is free! Fresh fish, steaks, prime rib, chicken, and pasta are served in spacious, comfortable dining rooms overlooking Shelter Cove Harbour and Broad Creek..
Skillets Grill & Café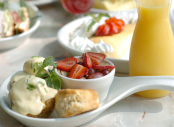 THE Island Cafe! Not just for breakfast... also serving Lunch, and Dinner! Island Favorite for 14 years. Dine in or outdoors on the patio just one block from the beach. Try the "Kitchen Sink", the "Beach", or more traditional dishes such as French toast, Belgian waffles, blintzes, and specialty omelets.
Attractions
Beach Bicycle Rentals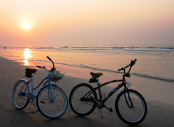 Many visitors rent bicycles daily or weekly to enjoy Hilton Head's 12 miles of hard-packed beach and nearly 20 miles of public pathways. You can bike through pathways along the major roadsand scenic paths in each of the private plantations.
Pirate's Island Adventure Golf
A'hoy mates! You'll have a swashbuckling good time looking for treasure on the two 18-hole adventures. Explore your way through shady oaks, cool mist, and over sparkling waterfalls at Hilton Head's Pirate's Island! Your adventure awaits!
Historic Old Town Trolley Tours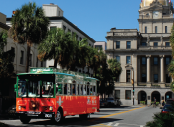 See the sights, hear the history, and visit the charming city squares on our comprehensive 90-minute tour of Georgia's First City with all day on and off privileges at any of our 16 stops.
Calm Water Kayaking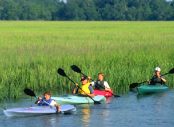 Whether you are looking for a peaceful, relaxing experience or an adventure that gets your heart pumping, we have designed trips with everyone in mind. Enjoy kayaking, Pinckney Island bike tours, and nature trail expeditions.
Harbour Town Lighthouse Museum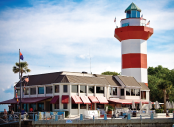 Explore the rich history and inside story on the lighthouse creation along with Civil war photographs and artifacts as well as ancient artifacts dating back 3000 to 5000 bc. The Lowcountry's best views and most elevated shopping experience is The Top of the Lighthouse Shop.
Catamaran Sailing Charters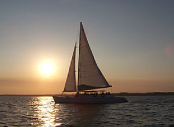 Sail the local waterway aboard the Island's largest Catamaran, PAU HANA, or try an intimate sailing adventure, (6 guests max), on FLYING CIRCUS. These pure sailing experiences will change your image of sailing forever. Safe, stable, and fun for all ages. Large walk-around deck with 360o views! Family-friendly, relaxing, and stress-free! Daily Dolphin Watch Nature Tours!
Host Resort
Touring the Resort Property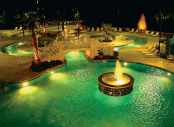 The
Palmera Vacation Club
will be hosting your Hotel Accommodations during your stay on Hilton Head Island. We know you're looking forward to your personal preview of the beautiful properties they have to offer – but first, here's some basic information!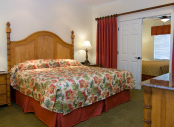 The
Palmera Vacation Club
properties consist of Coral Reef, Coral Sands, Port O Call, and Island Links. Each of these beautiful properties offers a variety of vacation ownership programs that can be designed to suit your needs and the needs of your family. The Palmera Vacation Club is a unique development company specializing in building only Gold Crown Awarded resorts. Each unit is professionally decorated and refurbished every five to seven years. The various properties each have onsite heated pools, activities for adults and children, as well as beach access. This could very well be your home away from home!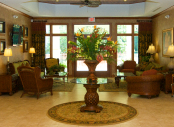 One of our courteous Vacation Counselors will detail everything you need to know, and answer any questions you may have. We know that once you see all that the
Palmera Vacation Club
has to offer, you won't want to leave! If you have questions about your Confirmed Reservation please call our Customer Service Department. One of our reservationists will be glad to assist you at 1-800-363-5798.
Directions
All guests traveling on vacation packages to Hilton Head Island, SC through VacationPlay.com will check-in through the Palmera Vacation Club Welcome Center. The Welcome Center is located in the Park Plaza shopping center, Suite 218.

Located along the southeastern coast of South Carolina, Hilton Head Island is one of the great beach destinations in the USA.
Please check-in here to receive your accommodations voucher, tour information, and gift package. The Welcome Center concierge will also provide area information and entertainment suggestions. You must notify the Welcome Center in advance if you will be arriving after 4:00 PM Check-In Registration is held daily 10:00 AM - 6:00 PM. Access to Hotels And Villas begins at 4:00 PM daily. 800-621-1518

Palmera Welcome Center
33 Office Park Rd, Suite 218
Hilton Head Island, SC 29928
Hours: 10am - 6pm
Phone: 1-800-621-1518