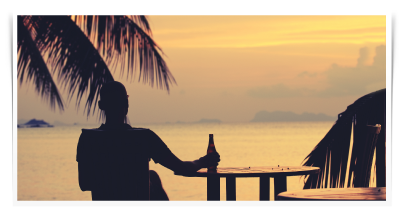 Vacation is Good for Your Health
Are you daydreaming about a tropical escape? Does the thought of a leisurely week at a wonderful vacation resort sound good about right now? If you are like most Americans, you simply do not get enough vacation time away. Not only do we not earn much vacation time, the sad part is that we also tend not to use it. With the push for productivity and a 24/7 work frame, we simply do not have or take the time to relax and enjoy ourselves enough. You may be trying to impress your boss or make your way up the company ladder, but the truth of the matter is that you're not doing yourself any health favors. By working all the time, you are adding extra stress to your mind and body that actually produces physiological changes such as stress hormones and tension that can be avoided by simply taking a few days off to enjoy a much deserved vacation!
It's true! Studies have shown that time spent relaxing during a vacation can provide a number of health benefits. Regular vacations can dramatically reduce the risk of heart disease, cure burnout, and help you regain your emotional balance. In addition, getting away on vacation has been proven to promote a positive mood, as well as refresh and rejuvenate your mind and body. Recent studies also show an increase in performance on the job when you return to the office after a relaxing vacation.
Ready to take charge of your health and refresh and rejuvenate your mind and body? VacationPlay.com is here to help you plan a relaxing vacation getaway and offers a variety of vacation packages to our "Host Resort" destinations including Hilton Head Island, Grand Bahamas, Cabo San Lucas, Daytona Beach, Orlando, Branson and more!
Take advantage of a unique and interesting
vacation package
from VacationPlay.com that allows you to explore a new place or visit an old favorite. From tropical beaches to Southern charm, let our vacation team find the best place for you to relax, unwind and enjoy a healthy break from your stressful schedule!